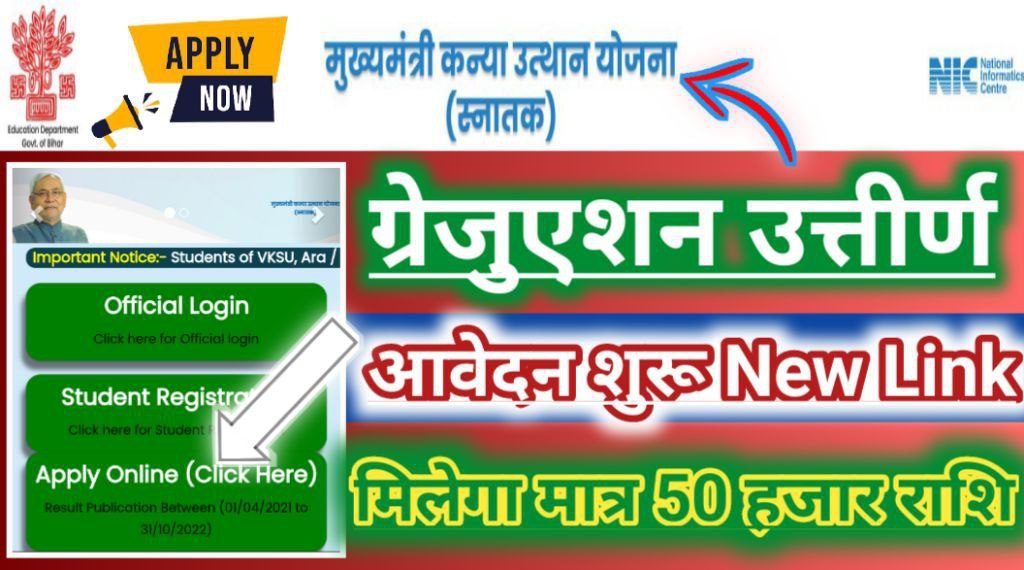 Bihar Mukhyamantri Graduation Kanya Utthan Online Form 2023, ग्रेजुएशन पास 50 हजार के लिए आवेदन शुरू, नया लिंक जारी
Bihar Mukhyamantri Graduation Kanya Utthan Online Form 2023: जो छात्राएं बेशबरी से स्नातक कन्या उत्थान आनलाईन फार्म का इंतजार कर रहें। आप सभी लाभार्थीयों का इंतजार खत्म हुआ। बिहार सरकार स्नातक पास छात्राओं के लिए आनलाइन आवेदन करने के लिए नया लिंक जारी कर दिया हैं। इस लेख में आपको बताया जाएगा कि आप आनलाईन आवेदन कैसे करेंगे एवं आनलाईन आवेदन करने का लिंक भी दिया जाएगा। अधिक जानकारी के लिए नीचे लिंक्स दिया जा रहा हैं।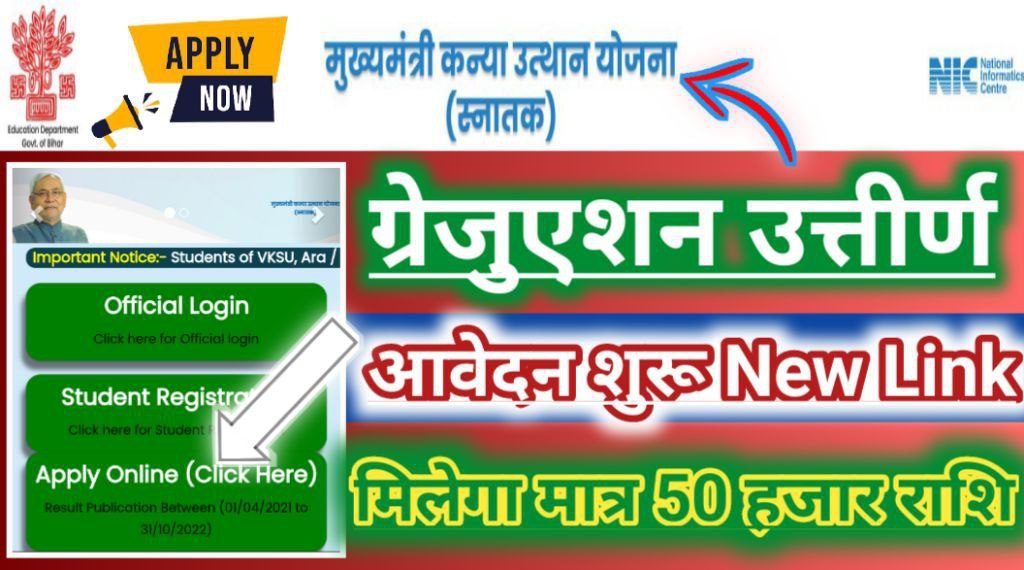 विभागीय संकल्प संख्या-15/ पी5-07/2018-367 दिनांक-13.02.2021 के आलोक में राज्य के अंगीभूत एवं सरकार से मान्यता प्राप्त संबद्ध डिग्री महाविद्यालयों / संस्थानों से स्नातक उत्तीर्ण सभी कोटि के छात्राओं को प्रोत्साहन भत्ता के रूप में एकमुश्त रु० 50,000/- (पचास हजार रुपये) मात्र दिया जाना है। यह राशि सीधे लाभुक के खाते में अंतरित की जायेगी। इस योजना का लाभ स्नातक उत्तीर्ण उन्हीं छात्राओं को देय होगा।
Education Department, Government of Bihar

Post Date

28 January 2023

Title of the Post

Bihar Mukhyamantri Graduation Kanya Utthan Online Form 2023

Post Category 

Sarkari Yojana

Apply Online Start Date

27 January 2023

Last Date For Apply Online

अंतिम तिथि का इंतजार ना करें

Official Website

Click Here

Join Telegram Channel

Click Here

Go To Home

Click Here
Important Dates Bihar Mukhyamantri Graduation Kanya Utthan 2023
Apply Online Start Date: 27 January 2023

Last Date Apply Online: Notify Soon

Payment List Declared Date: Notify Soon
Application Fee
इस योजना के लिए जो भी अभ्यर्थी फार्म भरेंगे उन्हे कोई भी आवेदन नहीं देने हैं, आपको केवल आनलाईन आवेदन करने है आगे की क्रिया विभाग के द्वारा किया जाएगा। 
जिन छात्राओं का परिणाम 01 अप्रैल 2021 से 31 अक्टुबर 2022 के बीच जारी किया गया हैं। वे ही छात्राए इस फार्म को भर सकती है, अन्यथा आप फार्म नहीं भर सकती हैं। अधिक जानकारी के लिए आप अधिकारिक नोटिफिकेशन पढ़े।
पात्र/योग्यता
बिहार के स्थायी निवासी हो।
राज्य के अंदर अवस्थित अंगीभूत अथवा मान्यता प्राप्त संबद्ध डिग्री महाविद्यालयों / संस्थानों से दिनांक 31.03.2021 के बाद स्नातक अथवा स्नातक समकक्ष का डिग्री प्राप्त किया हो।
राज्य के अंगीभूत एवं मान्यता प्राप्त संबद्ध डिग्री महाविद्यालयों (खुला विश्वविद्यालय सहित ) से दिनांक 31.03.2021 के उपरान्त स्नातक / स्नातक समकक्ष उत्तीर्णता प्राप्त छात्राएँ ऑनलाईन पोर्टल, पता:- medhasoft.bih.nic.in/mkuysnatak 2021 पर आवेदन करें।
ऑनलाईन आवेदन करते समय लाभार्थी ऑनलाईन निर्देशों का पालन करें। आवेदन स्वीकृत होने पर लाभुक के मोबाईल पर सूचना प्राप्त होगी।
पोर्टल पर प्राप्त आवेदनों का विश्वविद्यालय द्वारा Upload किये गये परीक्षाफल से जाँच के उपरान्त विभाग के स्तर से राशि लाभुक के खाता में अंतरित करने की कार्रवाई की जायेगी।
योजना का लाभ प्राप्ति हेतु लाभुक का खाता राष्ट्रीयकृत बैंक, मान्यता प्राप्त निजी बैंक अथवा इंडिया पोस्टल पेमेंट बैंक का खाता बिहार राज्य में अवस्थित किसी शाखा में हो।
फार्म कैसे भरें (How to Registration)
Click on the URL medhasoft.bih.nic.in/MKUYSnatak2021/PMS/StudentRegistration.aspx

Enter Your University Registration Number

Enter Father's Name.

Enter Marksheet Number as per your mark sheet.

Click on the Get Detail Button.

The valid student name will be displayed. If you find the details are correct then click on proceed button else contact the university for any discrepancies.

Verify your Aadhaar by providing the required information (ie. Aadhaar Number, Gender, DOB, Name on Aadhaar).

Verify Mobile using SMS-based OTP Authentication.

Verify Email using email-based OTP Authentication.

Enter Your bank account detail (ie. IFSC Code, Account Number).

Enter Your Residential/Domicile Details (ie . Residencial Cert Number, Issued Date, Issued by).

Click on Register Button.
Please Note: Before Clicking on Register Button, make sure you have validated your Aadhaar, Mobile, and Email.
योजना से संबंधित विस्तृत निर्देश विभागीय वेबसाईट Educationbihar.gov.in पर देखा जा सकता है। तकनीकी सहायता के लिए मोबाईल नं० -9534547098, 8986294256 एवं ई-मेल [email protected] पर सहयोग प्राप्त किया जा सकता है।