SSC CGL and Scientific Assistant Exam Date 2022 | SSC ने जारी किया परीक्षा की तिथियां, नोटिस देखें
SSC  ने आज 31 अक्टूबर 2022 को दो मुख्य भर्ती की परीक्षा तिथि जारी किया हैं, SSC CGL 2022 OR Scientific Assistant (IMD)। जो अभ्यर्थी SSC CGL 2022 एवं Scientific Assistant (IMD) परीक्षा का फार्म फार्म भरे हुए हैं, उनका इंतजार खत्म हूआ, क्योंकि एस.एस.सी. ने आज इन परीक्षाओं की परीक्षा की तिथि जारी कर दिया हैं, इस लेख की मदद से आपको इन परीक्षाओं की तिथियों के बारे में बताया जाएगा। एस.एस.सी. ने आज इन परीक्षाओं की तिथि जारी कर दिया हैं।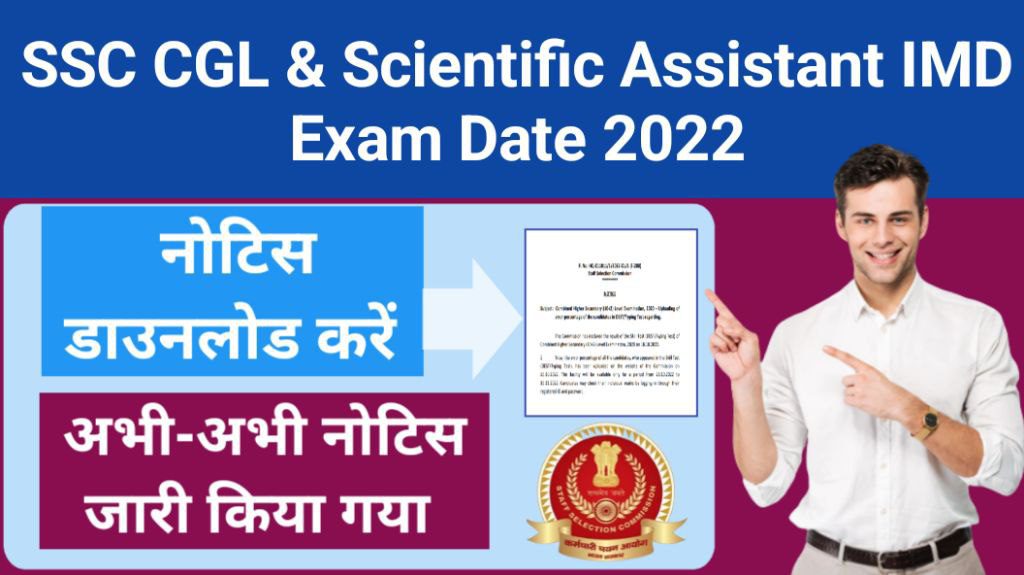 SSC CGL and Scientific (IMD) Exam Date 2022
Staff Selection Commission (SSC)

Update Date
31 October 2022
Post Name
SSC CGL and Scientific Assistant Exam Date
Post Type
Exam Date
Exam Date (SSC CGL: Tier-I Exam)
01.12.2022 To 13.12.2022
For Exam Date (IMD)
14.12.2022 to 16.12.2022
Advt. Date
31 October 2022
Highlight
Exam Date Notice
Join Telegram Channel
Click Here
WWW.RESULTLIVES.COM
Important Date (Remember)
For SSC CGL Recruitment 2022
Apply Online Start: 17 September 2022
Last Date Of Registration: 08 October 2022 13 October 2022
Last date  for generation of offline Challan: 08 October 2022 13 October 2022
Last date for making online fee payment: 09 October 2022 14 October 2022
Last date for payment through Challan (during working hours of Bank): 10 October 2022 15 October 2022
Date of 'Window for Application Form Correction' and online payment of Correction Charges: 19-20 October 2022
Schedule of Computer-Based Examination: December 2022
Schedule of Paper-II (conventional): To be notified later
For SSC Scientific Assistant in IMD Recruitment 2022
Online application form submitted Date: 30 September 2022
Submitted online form last Date: 18 October 2022
Last date receipt of online Applications: 18 October 2022 (23:00)
Generation of offline Challan Last Date: 19 October 2022 (23:00)
Fee payment online last Date: 20 October 2022 (23:00)
Pay the application fee through Challan: 20 October 2022
Application Form Correction with payment last Date: 25 October 2022
CBE* Exam Date: December 2022
Application Fee (Remember)
General, EWS, OBC Candidates: Rs.100 /-
 SC, ST, PwD, ESM, All-female category candidates: Rs. 00 /-
Payment Mode: Fee can be paid online by BHIM UPI, Net Banking or by using Visa, Mastercard, Maestro, RuPay Credit or Debit cards or in cash at SBI Branches by generating SBI Challan
Exam Date
The Commission has decided to conduct the following examinations as per the schedule given below:
Examination Name: Combined Graduate Level Examination (Tier-I), 2022
Exam Date (Tier-I): 01 December 2022 to 13 December 2022
Examination Name: Scientific Assistant in IMD Examination, 2022
Exam Date (CBE): 14 December 2022 to 16 December 2022
2. The above schedule is subject to the prevailing conditions and Government guidelines issued from time to time regarding the handling of the Covid-19 pandemic.
3. The candidates are advised to visit the website of the Commission at regular intervals for further updates.
Important Links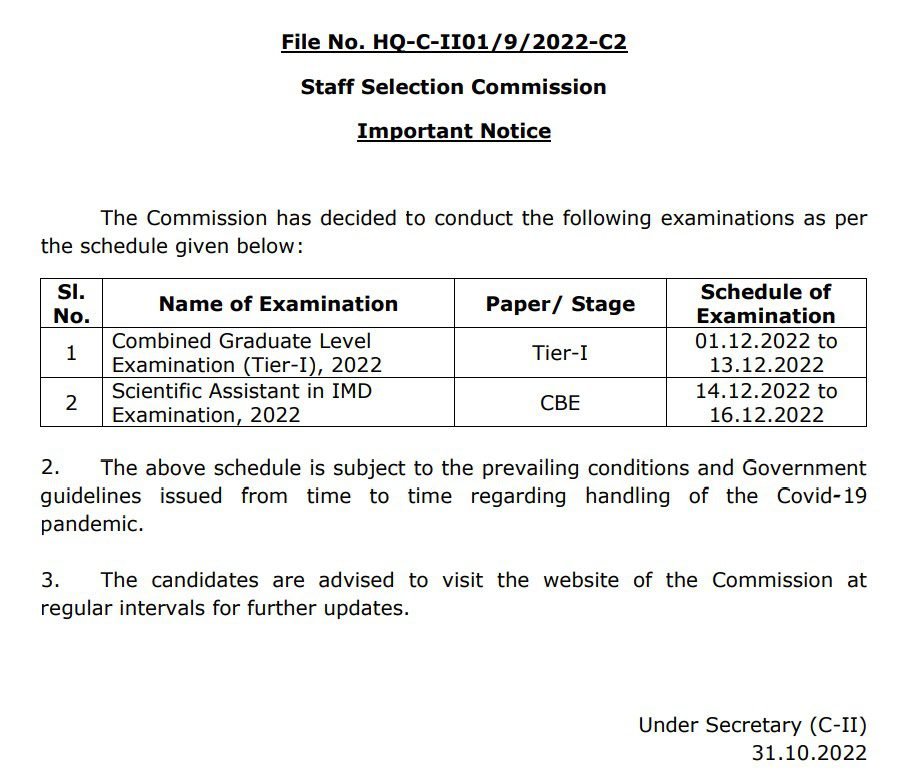 Latest Updates
Allahabad High Court Group 'C' and 'D' Recruitment 2022: Click Here
DPS Purchase and Storekeeper Recruitment 2022: Click Here
Indian Airforce Agniveer Recruitment 2022: Click Here
Bihar Police Prohibitin Constable PET Admit Card: Click Here